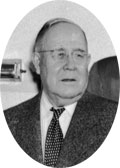 Our First Pioneers
ioneer Bank, originally known as Auburndale State Bank and northern Wood county's oldest financial institution, was incorporated on January 4, 1910. Capital stock was $13,000 with 77 incorporators or stockholders. One share was worth $100.
As our first president, Reuben Connor, also served alongside our original board of directors: J. C. "Charlie" Kieffer, Sr., Fred Schultz, W. D. Connor, John Baltus, Wolfgang Kolbeck, Geo. Schmidt, A. J. Friedrich and N. M. Berg.
First Stockholders
Due to the condition of our original documents, we sincerely apologize for any spelling errors that may have occurred in the list below.
Mrs. K. Aschenbrenner, Louis Aschenbrenner, Anton Ashbeck, Jos. Baierl, Geo. J. Baltus, John J. Baltus, John M. Beaver, N. M. Berg, Mike Brandl, Jos. Breu, James Brozek, Wm. Cody, Craig P. Connor, R. A. Connor, R. Connor, W. D. Connor, A. J. Cowell, Geo. Davel, E. M. Deming, Theodor Drisson, Peter Engeldinger, Knute Evenson, J. M. Fait, A. J. Friedrich, James J. Glennon, Fred E. Graham, G. E. Grob, B. Hafenbredl, Sr., B. Hafenbredl, Jr., Conrad Heeg, Ferdinand Herman, Frank Herman, Frank Hilgart, Geo. Hooper, Fred Jones, Nick Kelnhofer, J. C. Kieffer, Mark Kieffer, Jos. Kohel, Wolfgang Kolbeck, John Koller, Jos. Koller, Conrad Krings, Geo. Kundinger, Joseph Kundinger, Chas. J. Linzmaier, H. Lipka, Frank Lusk, Albert Maidenwaldt, John Markee, Aug. Mews, F. W. Parks, R. P. Potter, M. E. Reynolds, Marie Roehrborn, Ole Rogney, J. A. Roy, Ole Rudi, Matt Schill, Wm. Schlafke, George Schmidt, C. Schulhauser, August Schultz, Emil Schultz, Ferd Schultz, Fred Schultz, Otto Schultz, J. L. Schumacker, Albert Schuster, Ole Sivertson, Bernard Stoflet, P. P. Syms, Mary Treml, Wenzel Treml, D. N. Welch, Jos. Willfahrt and Paul Wurl.
Today's Pioneer Bank family is proud, indebted and thankful to the individuals who believed in the creation of Pioneer Bank in 1910. Many of these individuals are responsible for the things we take for granted in our communities – like a post office or a landline telephone. As Pioneer Bank evolves, we strive to maintain the dedication of our predecessors to the communities we serve.